So how exactly do you become a Tiny Home on Wheels resident of "The Cottages at Pine Lake", the new Huntsville-area Tiny House community?
Basically, think of getting access to and securing a lot as an "option" you're able to add to your Incredible Tiny House purchase… Exact steps are as follows:
Step 1:
Contact Incredible Tiny Homes about Purchasing a New Tiny Home for the Huntsville-area Tiny House Community "The Cottages at Pine Lake" by calling 256-594-9499 (then press option 1) or fill out this form below:
Step 2:
Incredible Tiny Homes will put together a sales contract with the home and options you desire. Be sure to sign & send back the contract ASAP along with the funds to buy your home (bank wire is typically fastest; ITH can provide you with their wiring instructions directly)
Step 3:
Once your new Incredible Tiny Home contract has been signed & paid for, contact Hans at GoTinyBeFree (the property developer) to secure your lot with the remaining Key Money ($10,000 for phase 1, $15,000 for phase 2) by calling 256-594-9499 (then press option 2) or send an email with your proof of home payment/receipt/wire confirmation to: [email protected] and we will get your lot secured and remove it from the available lots remaining to be sold
Note: You will be provided with a reasonable but limited amount of time (5 business days) to send your funds over once the contract has been sent out. But until your funds are received, for both the home and the lot, you are not guaranteed a spot in any particular phase or in the property at all if the lots sell out in the meantime. TIME IS OF THE ESSENCE
Step 4:
ITH will contact you during the build process as your home gets close to complete. GoTinyBeFree / "The Cottages at Pine Lake" will coordinate the delivery/reception logistics of your Incredible Tiny Home once you acknowledge receipt of your new home and initiate and PAY the delivery fee for your specific Tiny Home delivery company (ITH has several delivery drivers they recommend at the time of this post). You will need to give instructions to your tiny home delivery company/driver to contact us for delivery to the property.
Once the home arrives at "The Cottages at Pine Lake" property, it will be setup properly on the lot, blocked up and leveled, and utilities connected, at which point you will be notified so you can begin use of your new Sweet Home Alabama Tiny Home!
---
Additional Notes on the buying process:
Any New Tiny Home purchased through Incredible Tiny Homes – with the Huntsville Tiny Home / "The Cottages at Pine Lake" package price – will reserve a lot in the open development Phase(s) of the project (refer to the Development Plan page for details of Phases, etc).
Once the limited number of homes for a particular phase sell out, the next Phase home lots will become available for New Incredible Tiny Home purchases (with the Huntsville package pricing).
Example: If you are the 10th person to purchase an Incredible Tiny Home with the "Huntsville-package", have signed and returned your sales contract and paid ITH for the home, you will then be registered for that last lot in Phase 1 (which will include the lot lease for $300/mo) and Phase 1 will then be sold out. Phase 2 package pricing is $5000 higher than homes in Phase 1, with lots on the Lake).

ITH will be in contact with you about your home's build timeframe and when it will be ready for delivery.
---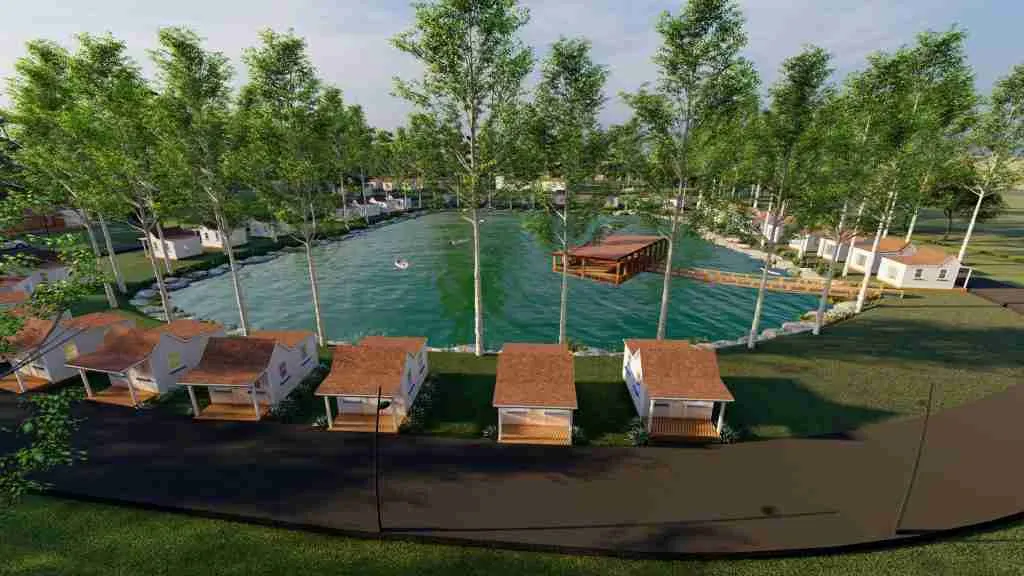 If you're ready to take the next step and get your Incredible Tiny House Purchased & Lot reserved before they sell out, fill out the form below and we'll contact you to review your order and make sure everything is correct:
---
For help with your Tiny Home purchase if you have any Incredible Tiny Home specific questions, call (256) 594-9499, and Press 1 to connect to the ITH Sales Support Team.
For questions specific to "The Cottages at Pine Lake" Tiny Home Community, see the FAQs link first. If you still have questions that are unanswered, fill out the form below for the fastest response, or call (256) 594-9499 and Press Option 2 (if the lines are busy or your call is not answered, please leave a message and we'll respond as soon as we can).