Let me introduce to you who I'm calling the Elon Musk of Tiny Homes: Mr Randy Jones. Randy's story and background has a lot to do with WHY there are truly affordable tiny homes on wheels to purchase. It's a very personal story, which you can learn about in this short video below…
The Elon Musk / Tesla similarities don't end there however…
You may be familiar with what Elon Musk refers to as "the machine that builds the machine", as in the "factory" machine that builds the amazing Tesla machines. And Elon has emphasized over and over again that the factory, and more specifically the production/assembly line inside the factory, is the key to producing amazing machines like Teslas.
Getting that right, was paramount to the success that Tesla and Elon Musk now enjoy. However it was not easy, and the company was on the verge of bankruptcy and could have easily gone bankrupt had they not gotten production right (the time when Elon Musk endured "production hell" as he has often stated, when he had to even sleep on the factory floor for years to make sure they got it right. And boy did they ever… (ever ridden in or driven a Tesla??)
Randy Jones too was up against that challenge over the past few years many times trying to make his tiny house company successful, on the verge of bankruptcy 4 or 5 times, he told me on a recent visit. Since 2014 he has been working on his dream of providing affording housing for people using the tiny homes on wheels as the product.
Now some 800+ tiny homes built and sold later – 230 houses of which people reside in on his property to date (with another 72 going in across the street), in one of several tiny house communities he has created there – he has taken his tiny home building to another level.
At the beginning of 2022, Randy started the build on a new 50,000sf factory less than an hour north east of the Great Smoky Mountains. And by April, he began the implementation of his new vision – the first Tiny House on Wheels production line…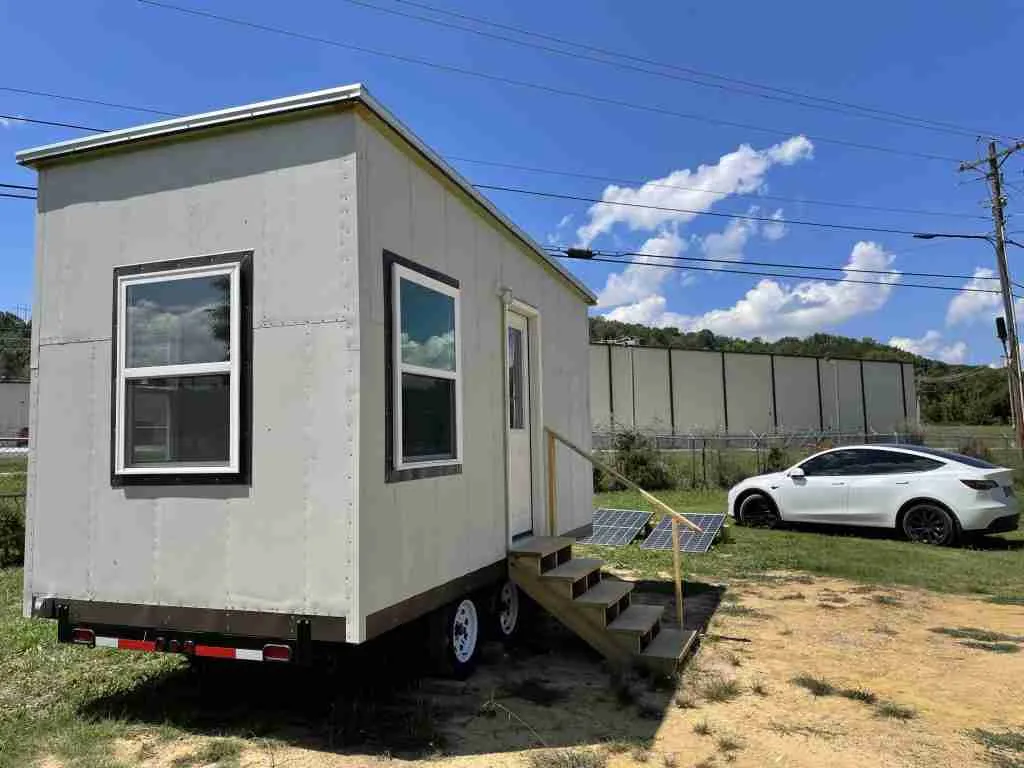 The goal was to be able to build the most cost efficient tiny home on wheels, in the shortest amount of time possible, for the cheapest price possible…
Building a tiny house on wheels from start to finish in just 10 hours??
Now, I've built my own tiny house on wheels. Granted it was a larger, custom, complicated tiny house on wheels, and I built 95% of it myself, but it took well over 1,000 hours to build…
(learn more about the TaHOW Tiny House here on Airbnb )
Randy, with his 60 person on-site experienced building crew, figured out how to cut out all the waste, all the extras, all the time consuming processes and streamline the build into essentially 6 steps, utilizing ESP (Engineered Steel Panels) panels as the main structure of the tiny house.
Building a Tiny House on Wheels in 6 steps, and 10 hours
Station 1: Build the home foundation on the 8×16 trailer
Station 2: Frame up the floor with rough plumbing & electrical; insulate
Station 3: Add subfloor & flooring; Raise & attach the 4 walls and roof
Station 4: Install interior walls, shower, toilet, water heater
Station 5: Set cabinets & countertop; Finish electrical and plumbing, set fixtures
Station 6: Multiple Tests & Inspections to ensure ANSI/NFPA Certifications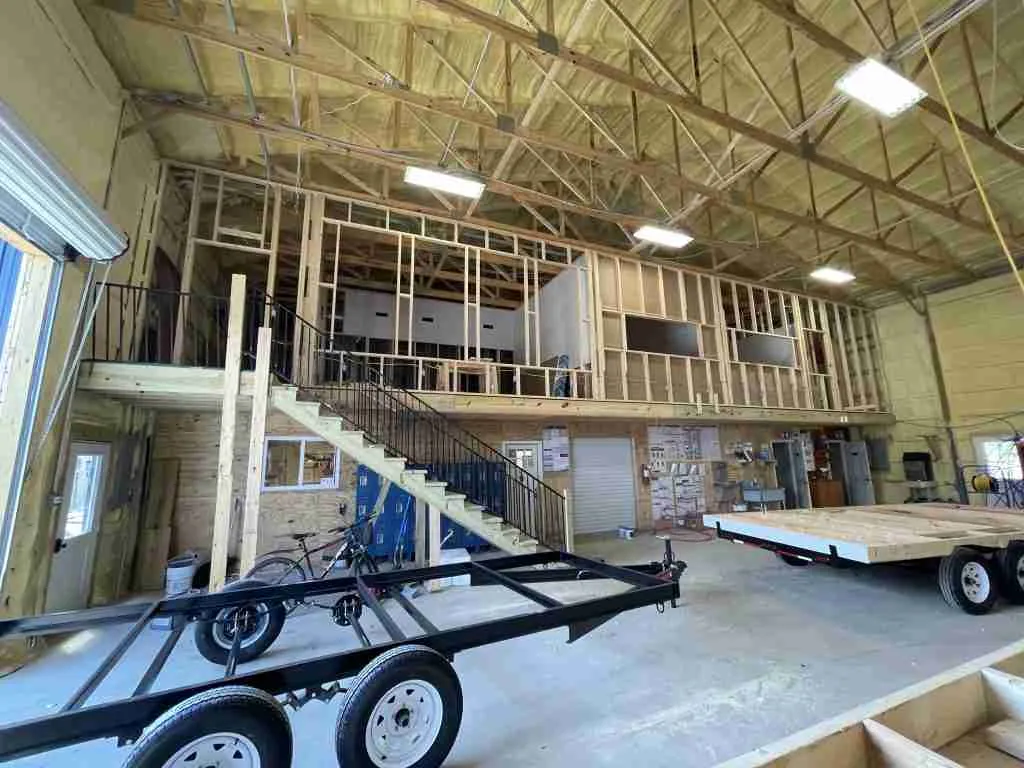 Now obviously that's a very simplified breakdown of what actually takes place on the production line, and like Elon Musk, Randy is constantly tweaking and refining his processes and steps to constantly improve and provide the best tiny house on wheels product possible.
AND, again like Elon Musk, Randy sleeps (just a few away from being) on the factory floor, in his own (prototype) comfy 8×16 Incredible Tiny Homes Incred-I-Box Tiny home, parked right next to the factory…
What do you get with a more affordable DIY (Decorate It Yourself) Tiny House on Wheels (like the RJO or Incred-I-Box)?
Now, obviously this is designed as a decorate-it-yourself affordable tiny home, so it's not going to have marble floors, granite countertops, a jacuzzi hot tub or a walk-in closet (You can purchase one of the slightly more expensive done-for-you models if that's what you want, ie, like the Incred-I-Cottage Deluxe or 40ft Birmingham!). This is more a DIYer's tiny house (as in "Decorate-It-Yourself"); it can be lived in as is, just hookup power, water and sewer… but you're probably going to want to finish and decorate it in your particular style (again on the Tiny House Community property it starts at less than $40,000!). So imagine if you were going to build your own tiny house, but instead of having to start at the beginning of the process, you get to start here.
Maybe you just want to paint it. Maybe you want to put stucco on it, or wood trim, or something else. Maybe you want to add some shelves (even magnetic shelves) to go over your bed or couch, or even a loft, or maybe some built in bunk beds. Maybe all you need is window A/C unit, or perhaps you want to install an electric fireplace or maybe a mini split unit for heat and cool… You have the basics of what you need with this tiny house to customize it and make it fully yours!
Also keep in mind it is just 8ft to 10ft wide and 16ft to 24ft long (depending on size and model), but with that said, it has all the space one really NEEDS to sleep, eat, prepare food & eat, clean up, get ready or unready or use the bathroom. This won't be the solution for everyone (if you have 3 kids for example lol) but for under $40,000 you really do get a lot!
Incred-I-Box Model:
But some of the more obvious things you're going to need (depending on your climate, region, etc) is likely some kind of AC or heater, a fridge, maybe a cooktop or microwave, a bed, maybe a TV and possibly a chair or small side table. These are just some ideas for you to ponder…
Here's what I did with my 8×16 Off-Grid Tiny House that I bought and decorated myself (I call it "the spROCKET Tiny House"):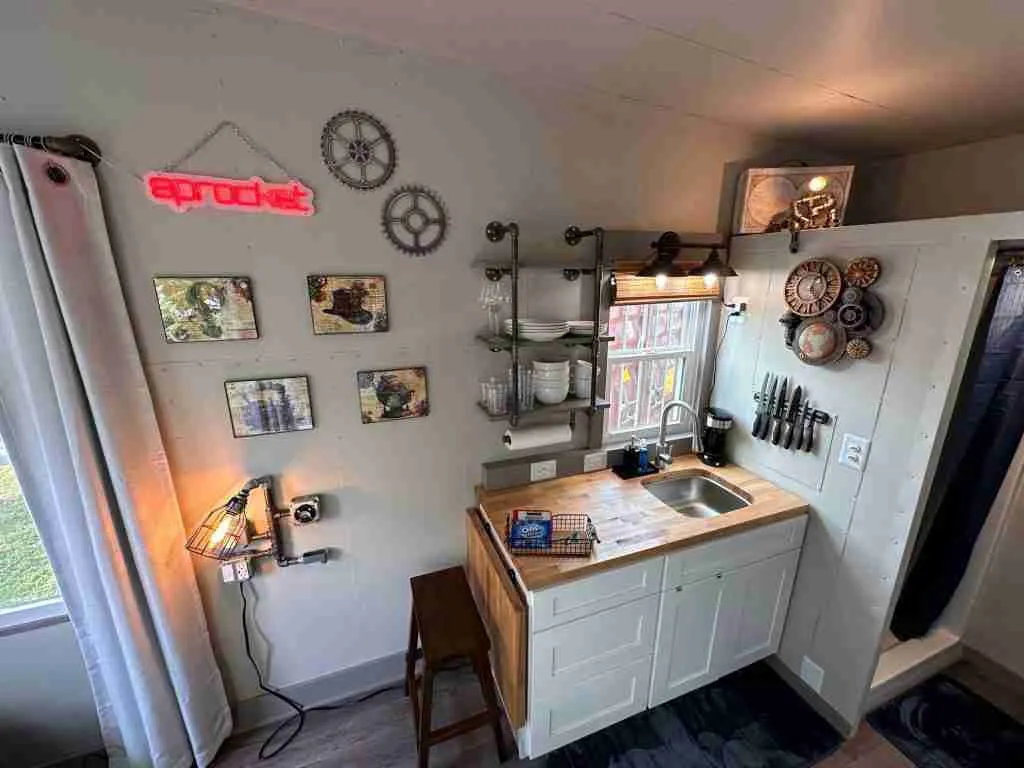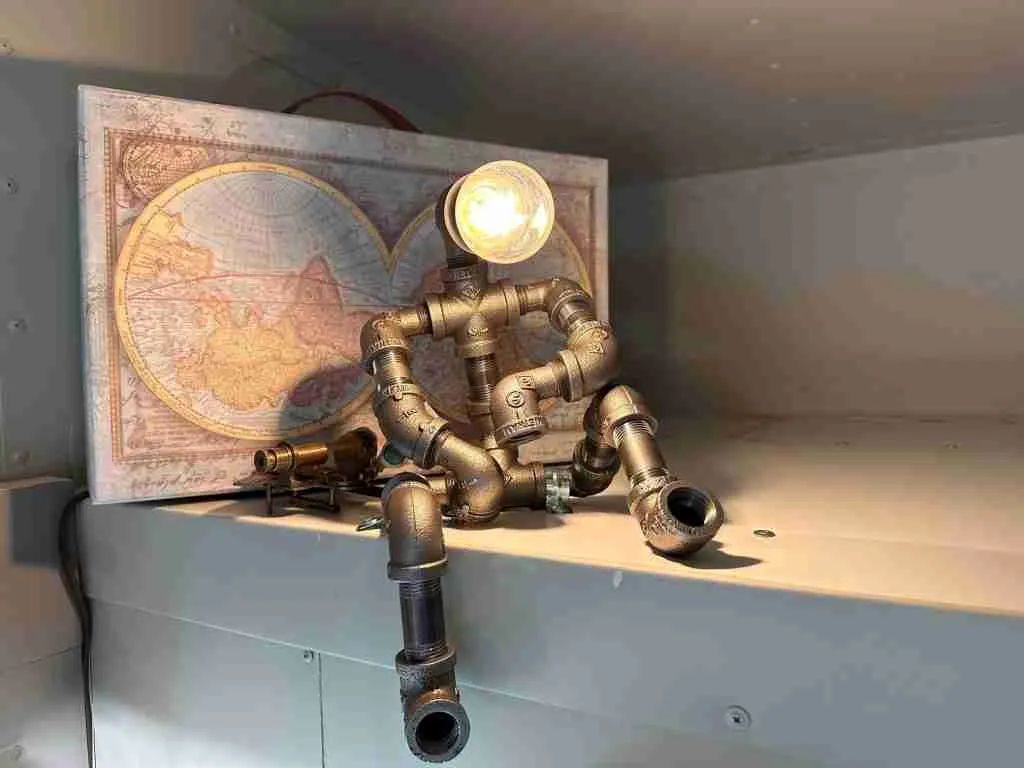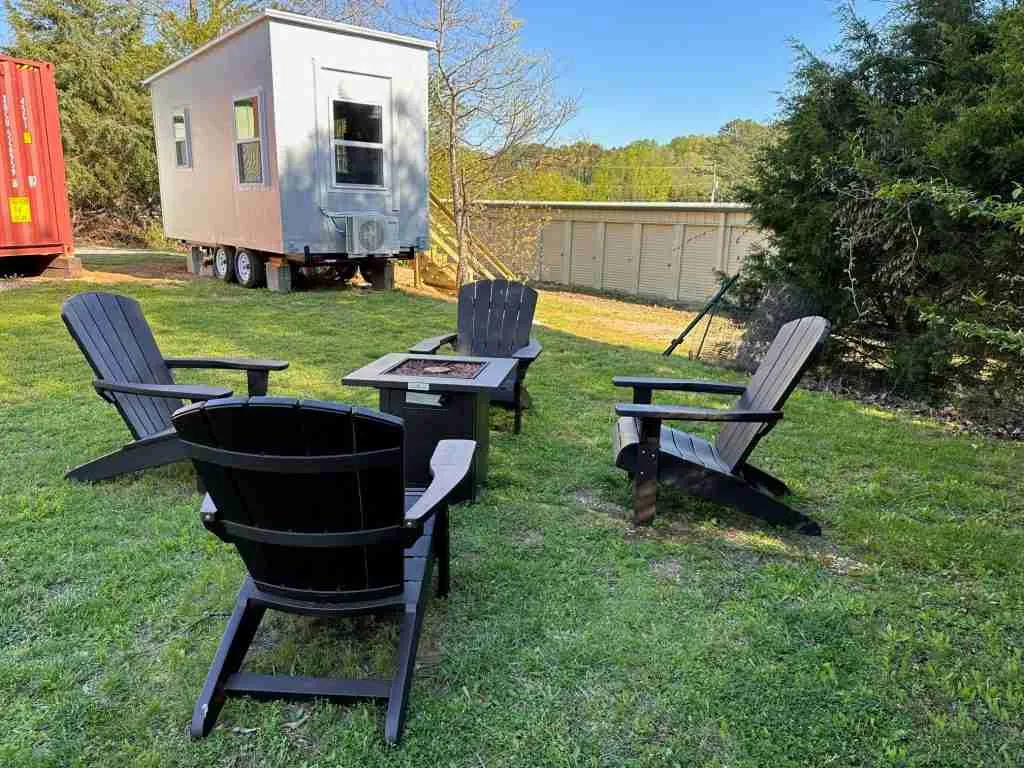 Do I have to wait a year or TWO like with most Tiny House Builders to get one of these "Incredible Tiny Homes"?
Short answer: no!
Since April (2022), Randy and his team have already built some 70 of the 8×16 Incred-I-Box Tiny Homes (as of this update in mid-August 2022). Twice that many have been sold, but as he ramps up his average daily production from 3, to 4, then 5 a day (4 days a week), he will be producing up to 20 of these homes a week, which means you won't have to wait a a year or two like most people have to wait who want to go tiny, due to the long wait times for most tiny house on wheels builders (they take a long time to build normally, hence why Randy came up with this production line…). He has incentivized his team with 20% pay increases per house they produce a day up to 5 so they will likely be at that rate soon!
As of October 2023 an Amish-built Incredible Tiny Homes fully-finished "Model" home can be available within 8 weeks of purchase; production line homes like the Incred-I-Box & Incred-I-Cottage or RJO 2024 will be ready to build in Jan/Feb 2024 currently…
In summary, if you want a high-quality yet affordable strong, well built tiny house and you want to live in the Huntsville-area Tiny House Community, Randy Jones and the Incredible Tiny Homes Company can help you "Go Tiny" & "Be Free"!
—> CLICK HERE to start the process to get your Tiny Home on Wheels…