Ever imagined you could try out and experience tiny house living before committing to buying or building your own tiny house on wheels?
Or maybe you just want to see what all the hype and excitement is about – what's it really like to stay or live in a tiny house on wheels? Can you do it? Is it as easy/hard, good/bad, fun/boring as you think it would be?
Well you can stop wondering! Because we are developing a tiny house on wheels community with tiny houses setup just for that purpose, for you to EXPERIENCE Tiny House living for yourself, from one to several days/nights in a variety of different tiny homes (subject to availability)…
Click here to BOOK the TaHOW Tiny House NOW on AirBnB
Click here to BOOK this home NOW on AirBnB
Experience a Variety of Tiny House Use-Cases – there's more to tiny houses than just living in one!
Yes, of course, a tiny house on wheels makes for a great home! Something you can call your own and completely customize to you – without an expensive 30-yr mortgage payment – a house you can take with you if and when your life situation changes, more disposable income to spend on LIVING (and not just house upkeep/expenses)…
And all those reasons and more are also what makes tiny houses on wheels a perfect solution for many other situations, more than only a home, creating additional opportunities and creativity and life…
For this reason, we also open up the property and tiny houses to certain events, be it small weddings, small family gatherings, company events and small outdoor conferences, entertainment events and hangouts and more… (contact us ahead of time for information on small events)
But tiny houses can also be great solutions for business owners, sole proprietors, artists, creators, designers… An office or a studio, a mobile gym, a food truck/bar/lounge, a stage for a concert or event, a fully customized tailgating operation/pub…
Come experience some of the unique and fun solutions that can be created with Tiny Houses!
Click here to BOOK this spROCKET Tiny Home NOW on AirBnB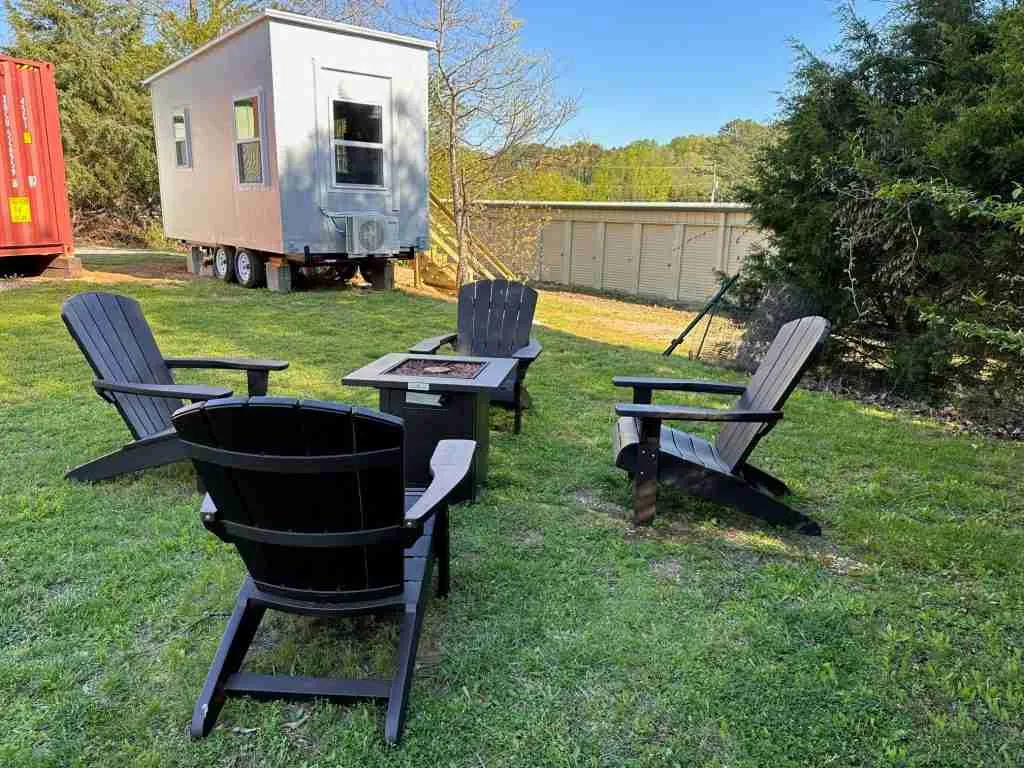 Click here to BOOK this home NOW on AirBnB
Some of the amenities we feature on-site for guests of our tiny homes (or *coming soon) are:
Raised Garden Bed with Tomatoes, Basil, Peppers, Jalapenos, Strawberries, Oregano, Rosemary and other seasonal vegetables and herbs you can pick and eat over your stay
Gas Fire pit/Table & 4 Chairs to sit around and enjoy fire
Parking for Tesla vehicles (11kw / 60 amp 220 Tesla wall chargers)
*Water feature (waterfall, pond, creek)
Outside Gas Grilling on Propane Grill
*"Tiny" Hot Tub
*Shade Tarps, Fans & Misting Devices
Outside patio furniture
*Hammocks / Hammock Chair under the Pergola
*Pergola / beer garden / wine patio with string lights
*Food trucks (organized by event)
*Music system
*Laundry Facility
Book a short-term stay with us today or enquire about participating in our hosted tiny house events on-site (see facebook page for upcoming events) or hosting your own small event on-site utilizing our facilities.
Your next step would be to take the GoTinyBeFree Tiny House Planning Questionnaire to figure out what needs and wants you have to figure out the perfect tiny house for you – click here to take it now
We look forward to helping facilitate your tiny house experience!
Ready to buy a tiny house on wheels? Click here to learn more